Carleton Place Chamber recognizes & honours local business community
Written by
Carleton Place Almonte Canadian Gazette
Wednesday, October 26, 2016 —
0 Comments
The Carleton Place & District Chamber of Commerce held its fourth annual Business Awards of Excellent Gala on Oct. 21. The sold-out event took place at Stonefields Event Destination in Beckwith, celebrating truly amazing individuals and businesses in the community.
Owing to the year 2016 marking the chamber's centennial, "this is the most memorable gala event in our chamber's history," chamber board chair Donna MacDonald said. On Friday night, awards were handed out in six categories: Business/Business Person of the Year; Community Involvement; Excellence in Customer Service; Employee of the Year; Entrepreneur of the Year; and People's Choice. Winners were voted on by the chamber's membership, with the exception of one – People's Choice. This new award was open to public voting.
"I am excited to report we received 46 nominations this year for our awards," MacDonald said, "and the enthusiasm surrounding the awards tells me business people in Carleton Place want to recognize success." "It also tells me we have some exceptional companies providing services and products worth celebrating," she continued.
The winners
Canadian Co-operative Wool Growers Limited was named the chamber's 2016 business of the year, with former board member Dwayne Acres accepting the award from last year's winner Dena Comley of The Granary.
"Thank you very much," Acres said. "I am filling in tonight for general manager Eric Bjergso," he continued. "Our company's annual general meeting is being held in Winnipeg and half of our staff is there."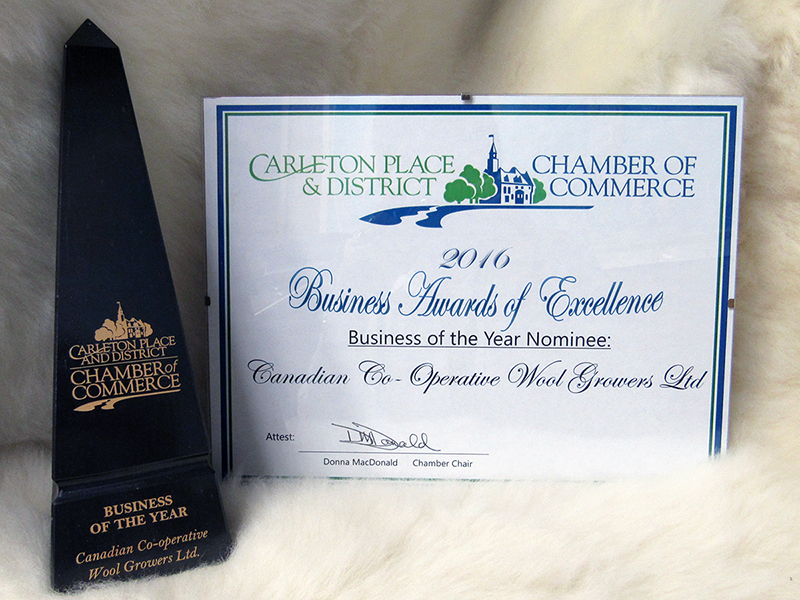 Chamber board vice chair Greg Smith noted Canadian Co-operative Wool Growers Limited was selected for its excellence in business operations, including financial management, environmental practices, customer service, sales and marketing.
Too, "it has a strong track record of community involvement and support," he said.
Read the rest of the story Read the story online