Written by Tom Van Dusen - Ontario Farmer
Thursday, July 26, 2018 — No Comments Yet
Diversification helps Wool Growers weather 100 years
By Tom Van Dusen
July 10, 2018 OntarioFarmer.com
Carleton Place – When Canadian Cooperative Wool Growers General Manager Eric Bjergso is asked how business today compares to what it was 100 years ago, he has no trouble answering.
Eric Bjergso holds up a slim 1918 Wool Growers Coop Annual Report
In his office in what was once Canadian Pacific Railway roundhouse and machine shops in Carleton Place, Bjergso quickly comes up with an original, intact copy of the coop's 1918 annual report which shows it collected 4.5 million pounds of raw wool in that first year. Wool sales stood at $2.9 million, with shepherd's supplies at a meagre $3,400.
That was the heyday of the Canadian raw wool industry. By the mid-70s when Bjergso came on board, wool collection, grading and processing had dropped to about 1.5 million pounds. In recent years, with changes in consumer tastes and more attractive prices, that number has rebounded to close to three million pounds.
But the really impressive figures are at the retail end. From that early shepherd's supplies line item, retailing has climbed to $7 million on total annual revenues of just over $10 million. It's all about diversification, Bjergso explains.
The CCWG complex is a study in contrasts. In one large section, large sacks of raw wool are stacked in gloomy surroundings which would fit comfort- ably into Dickens England. Other sections contain a wool store and livestock equipment retailing as bright and inviting as any you're likely to see. In between is a warren of administration offices.
Celebrating its 100th anniversary mostly during its annual meeting and banquet to be held at nearby Almonte Oct. 18-20, the coop was founded as a mechanism for paying all members the same price for their raw product no matter size of the wool clip, the time of year received, or distance travelled to the Carleton Place facility acquired in 1940.
''The place was a mess, '' Bjergso observed. ''Tracks, turntable, steel wheels… anything and everything needed for train repair could be found in the building.'' On the positive side, scrap iron was much in demand at the beginning of WWII and what might have been a liability was turned into an asset.
On the CPR mainline, Carleton Place was ideally located to handle wool from the west and ship it via Montreal to points in Europe as well as across Canada. Originally with warehouses in Weston and offices in Toronto, by 1972 the entire CCWG operation had been moved to Carleton Place. Coop administration is housed a section of the building which once served as storage and boiler room for the CPR.
Raw wool is graded according to fibre diameter and length, amount of grease and foreign matter. After grading as fine, medium and coarse, wool is shipped out in compact bales, with 90 per cent exported out of Canada. China is a major buyer.
In 1979, the old CPR coal bins were transformed into the Real Wool Shop. The roundhouse was renovated into Stockman Supply and overflowing Equestrian Centre for tack and Western clothing. The room also contains a railway memorabilia mini museum.
Together with livestock supplies sold in Carleton Place and at outlets in Lethbridge, St. Jacob's, Cookstown and Saint-Hyacinthe, retailing now makes up about 60 per cent of CCWG annual sales. ''With the drop in wool processing in the '70s, we knew we had to diversify and we've done a pretty good job of it,'' Bjergso said.
There's much to celebrate and as part of the festivities, CCWG is developing a 100th banner. In addition, the milestone was recognized at the Lambs Down Park Festival June 16, an annual family day held on the coop grounds, and will be acknowledged again July 7-8 during A Stitch in Time demonstrations and displays at Dunvegan, Glengarry County.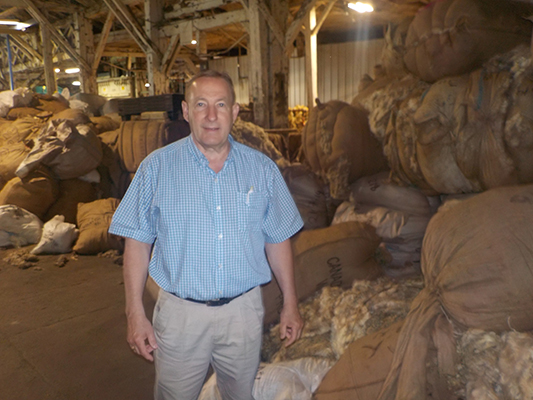 Eric Bjergso inside the cavernous raw wool receiving area.