2023 All Canada Sheep Classic - Barriere, BC
Written by
BCPSBA
Friday, June 23, 2023 —
0 Comments
BCPSBA Proudly hosts 2023 Classic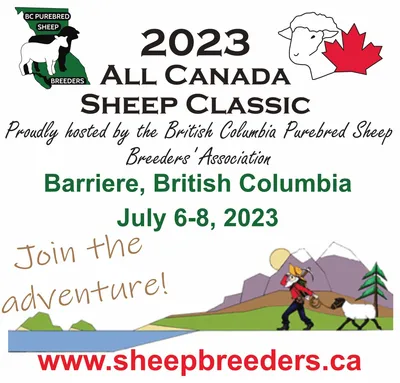 British Columbia Purebred Sheep Breeders Association is pleased to host the 2023 All Canada Classic
at the North Thompson Agriplex & Curling Club, 4872 Dunn Lake Road, Barriere, BC July 6-8, 2023
47 Consignors and 207 entries
Trade Show & Commercial Displays
Junior Show
Classic Show and Sale will be live and online at DLMS.ca
Stay updated as more show information is posted in the Classic Documents.
Restez à jour car plus d'informations sur l'événement sont publiées dans les documents classiques.
TRADE SHOW ENTRY /BANQUET TICKETS PURCHASE - JULY 1 << click for tickets
Who can I contact | qui puis-je contacter
BCPSBA Contacts:
Richard Herlinveaux: (P) 250.213.3078 (E) element_656@live.ca
Bev Greenwell: (P) 250.582.9414 (E) happyhollow@nethop.net
Neville Eccles: (P) 250.503.8991 or 250.838.2622
www.bcsheep.com
CSBA: Linda Brandes: (E) office@sheepbreeders.ca
Visit sheepbreeders.ca/2023-all-canada-classic for more info!