Black Welsh Mountain Sheep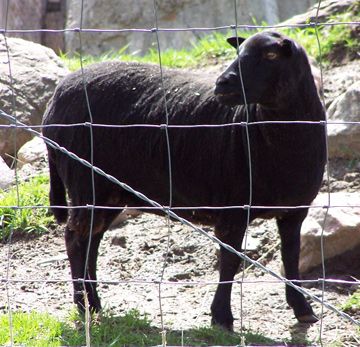 Black Welsh Mountain sheep breeders listing & info
Black Welsh Mountain sheep are small black sheep. They produce a lovely black wool known as "cuchddu" due to the reddish colouring that can be present on the ends of the fiber. Average fleece weights range from 2.2 – 5.5 pounds
Rams of this breed are horned and posses a lovely black curling horn set. Ewes are naturally polled.
These animals are small in size, are somewhat timid, but quickly adaptable to almost any situation or change in routine. There is no upper size limit, but the average height at the shoulder falls between 20 and 30 inches. Mature ewes weigh in at 100 lbs and mature rams weigh between 130 – 145 lbs.
Their tails must remain undocked to be registered as purebreds stock. The tails are hairless on the underside and as such, theses sheep are naturally resistant to fly strike.
This breed seems to be a little more level headed than some of the more commercial breeds and will not startle as easily.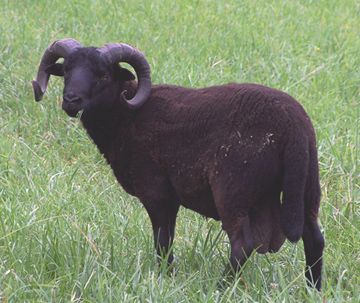 American Black Welsh Mountain Sheep Association
Black Welsh Mountain Sheep Breeders Association in Britian
Characteristics of Black Welsh Mountain sheep
Lamb/Ewe Percentage / Pourcentage d'agnelage
Fleece / Qualité de la toison
Staple Length / Longueur de fibre
Name and contact info for Black Welsh Mountain sheep breeders
"Athenry" Black Welsh Mt Sheep, Kristen & Andrew Ritson-Bennett
Buckley Farm

1930 Rosetta Rd Lanark ON K0G 1K0
613-297-8717 jamesbuckley@expcoach.ca


Mariposa Woolen Mill, Dave & Ellen Edney

1275 HWY 7 Oakwood ON
705-341-7959 (Text or call) info@mariposawoolenmill.ca

Newland Ranch, Val Fiddler

Box 42, Webb, SK S0N 2X0
306-672-3550 woolywoolofthewest@yahoo.ca

Ovation Hal

16341 Woodbine Ave, RR 3, Newmarket, ON L3Y 4W1
905-898-0822

Oyster Bed Farm, Allison Ferguson
Roving Winds Farm
Southfork Whole Foods Farm, Melanie Grimster

Box 654 Eastend, SK S0N 0T0
306-295-3321

Tj's Farm, Thane & Jaxon Hope

Maple Creek, SK
306-662-4397 thane.hope@sasktel.net

Totem Farm, The Morrissey family

1211 Centre Rd Hamilton, ON L8N 2Z7
905-690-9497 - totemfarm@gmail.com
If you wish to update or see your farm listed on this page, please contact us.