British Milk Sheep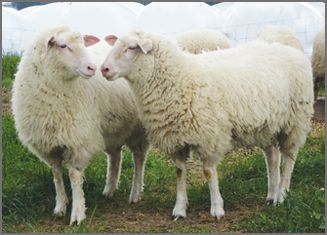 British Milk Sheep breeders listing & info
Developed during the 1970's in Wiltshire and Northumberland, the British Milk Sheep is the result of crossbreeding the East Friesian, Blue-faced Leicester, Polled Dorset and LLeyn sheep. It is a dual purpose meat/dairy breed with high prolificacy. When crossed with other breeds the BMS will improve prolificacy and milking ability.
Développé durant les années 1970 dans le Wiltshire et le Northumberland, le British milk sheep est le résultat du croisement du East Friesian, du Blue Faced Leicester, du Dorset et du LLeyn. C'est une race à double fin, viande et lait, avec une forte prolificité. Lorsque croisé avec d'autres races, le British milk sheep améliore la capacité laitière et la prolificité.
Characteristics of British Milk Sheep
Lamb/Ewe Percentage / Pourcentage d'agnelage
Fleece / Qualité de la toison
Staple Length / Longueur de fibre
Lacatation Litres / Litres - Lacatation
British Milk Sheep Breeders listing
Bazel's Place

228 Avondale Rd, Newport NS, B0N 2A0

Best Baa Farm, E & E Bzikot
Gollan Sheep, Tania Gollan
If you wish to see your farm listed on this page, please contact us.