Clun Forest Sheep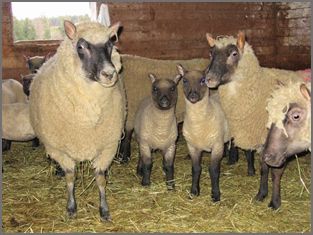 Clun Forest Sheep breeders listing & info
Clun Forest sheep are a local breed of the upland hill country between England and Wales. The first flock was imported into Nova Scotia, Canada in the 1970's. They are easy keepers, hardy and able to fend for themselves under harsh conditions, while still producing good lambs. For these reasons, the breed has spread into many pasture based systems across Canada and the US, where they thrive in the desert conditions of Utah, the humidity of British Columbia and the cold of Minnesota. Clun Forest sheep are a maternal breed. The ewes generally produce twins, are good mothers and good milkers. They are most often used in crossbreeding programs with Suffolk and Hampshire rams to produce market lambs. Clun Forest rams can be used on first time ewes to downsize the lambs and reduce lambing problems.
Le Clun Forest est une race locale des collines des hautes terres entre l'Angleterre et le Pays de Galles. Le premier troupeau a été importé au Canada, en Nouvelle-Écosse, au cours des années 1970. Ils sont faciles d'entretien, robustes et capables de survivre sans assistance dans de dures conditions, en produisant toujours de bons agneaux. Pour ces raisons, la race est répandue dans beaucoup de systèmes basés sur le pâturage à travers le Canada et les États-Unis, où ils prospèrent dans les conditions de désert de l'Utah, l'humidité de la Colombie Britannique et le froid du Minnesota. Le Clun Forest est une race maternelle. Les brebis produisent généralement des jumeaux, sont de bonnes mères et de bonnes laitières. Elles sont plus souvent utilisées en croisement avec des béliers Suffolk ou Hampshire pour produire des agneaux de marché. Le bélier Clun Forest peut être utilisé pour l'accouplement des agnelles dans le but de réduire la taille des agneaux et les problèmes à l'agnelage.
North American Clun Forest Association
Characteristics of Clun Forest Sheep
General Appearance - Clean open dark-brown face, top of the head is nicely covered and free from dark wool. Strong body, muscular neck, lenghty good back, deep & well rounded thighs.
Lamb/Ewe Percentage / Pourcentage d'agnelage
Fleece / Qualité de la toison
Staple Length / Longueur de fibre
Clun Forest Sheep breeders listing
Boone Run Farm, Paul & Jana Vleuten
Cee-Der Sheep Products, Glynn Brooks

Box 1364, Lethbridge, AB T1J 4K1
Tel/Fax 403-381-6404

Dalton & Sarah Frostad
Habitat Farm, Dennis Lapierre

3548 Shaw Rd Falkland BC V0E 1W1
250-379-2642

Loch Lomond Livestock Ltd
Martin Penfold
Port Kells Clun Forest Sheep Farm, Melanie Lee
Ravenstone Farm, Grant Smith

1616 Rodgers Rd Qualicum Beach, BC, V9K 2B2

St. Mary Meade Farm, Rob & Dawn Kingston
Steiner Farms
Paul & Terra Vallely

Box 34, Clinton, BC V0K 1K0
250-459-2356

Wind's Reach Farm, Barbara Ydenberg

27382 84th Ave Langley, BC V1M 3L4
604-856-3365

Wind 'n' Woolly Acres, Mary Dobson
If you wish to see your farm listed on this page, please contact us.