Jacob Sheep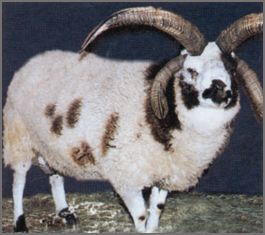 Jacob Sheep breeders listing & info
Their true origins are not known; however documentation suggests these Spanish horned sheep were washed ashore from shipwrecks in the attempted invasion of England by the Spanish Armada. These sheep when crossed with the native flocks of Northern England and Scotland produced the breed we know today. Being a carrier of the polycerate gene they can produce 2, 4, 5 or 6 horns. The ewes are also horned. Handsome and hardy, the Jacob is ideal for the small flock owner.

Leur vraie origine est inconnue, cependant, la documentation suggère que ce mouton à corne espagnol se soit échoué lors du naufrage de bateaux pendant la tentative d'invasion de l'Angleterre par l'Armada espagnole. Ce mouton croisé avec les troupeaux natifs de l'Angleterre du Nord et de l'Écosse a produit la race que nous connaissons aujourd'hui. Étant un porteur du gène de cornes multiples, ils peuvent produire 2, 4, 5 ou 6 cornes. Les brebis sont aussi cornues. Beau et robuste, le Jacob est idéal pour le propriétaire de petit troupeau.

Characteristics of Jacob Sheep
Lamb/Ewe Percentage / Pourcentage d'agnelage
Fleece / Qualité de la toison
Staple Length / Longueur de fibre
Jacob Sheep breeders listing
Vanessa Durand

402 Dillabaugh Rd Kemptville, ON K0G 1J0

Hogs & Horns Homestead

hogsandhornshomestead@gmail.com
403-796-7407 & @hogsandhornshomestead

Red Elevator Farms, Tia & Alex Swanson

Box 306 Milk River, AB T0K 1M0
403-647-6092 redelevatordfarms@gmail.com

Shar-Dean Farm, Dean & Sharon Davidson

137265 Con 7 Georgian Bluffs Owen Sound N4K 5N5
519-371-6221 shardeanfarms@gmail.com
If you wish to see your farm listed on this page, please contact us.