North Country Cheviot Sheep
North Country Cheviot Sheep breeders & info
The North Country Cheviot is a breed that has been widely used in the north of England and Scotland for several centuries. They are independent sheep, strong willed, vigorous and very hardy in harsh climates and rough pasture. They are best suited to pasture based systems where the management is not intensive.
The ewes exhibit superior mothering instincts and deliver lambs easily. The lambs are vigorous at birth with excellent survivability. Although they only demonstrate an average rate of gain, the carcass quality is very good with an above average yield percentage. North Country rams are often used in crossbreeding programs to pass on the maternal strengths of the breed as well as to produce desirable carcasses.

La North Country Cheviot est une race qui a été largement utilisée au nord de l'Angleterre et de l'Écosse pendant plusieurs siècles. C'est un mouton indépendant, à caractère fort, vigoureux et très robuste dans des climats arides et des pâturages accidentés. Les North Country Cheviot s'adaptent mieux aux systèmes basés sur le pâturage où la gestion n'est pas intensive. Les brebis ont un instinct maternel développé et ont des agnelages faciles. Les agneaux sont vigoureux à la naissance et ont de bons taux de survie. Bien qu'ils démontrent une vitesse de croissance moyenne, la qualité de leurs carcasses est très bonne avec un pourcentage de rendement au-dessus de la moyenne. Des béliers North Country Cheviot sont souvent utilisés dans les schémas de croisement dans le but de transmettre tant les caractéristiques maternelles que bouchères de la race.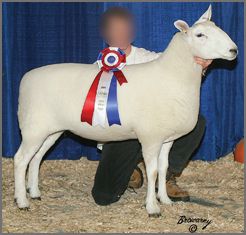 Cheviot Sheep Society
Characteristics of North Country Cheviot Sheep
General Appearance - Medium sized, deep bodied, hornless sheep. White fleece with good staple.
Lamb/Ewe Percentage / Pourcentage d'agnelage
Fleece / Qualité de la toison
Staple Length / Longueur de fibre
North Country Cheviot Sheep Breeders listing
A&S Livestock, Shane & Allison Cramp & Family

40 Mill St. East Hillsdale ON L0L 1V0
705-835-7665 cell: 705-795-5601 aslivestock@hotmail.com

Boz Hill Farm -

Box 818, Coronation, AB T0C 1C0
403-578-2664 raestar80@hotmail.com

Braebank Stock Farm, Rolly Bateman

Box 12 Pilger
SK 306-367-4707 itaskaus@yahoo.com

Bruce Family Farm, Danny Bruce

RR 3 Bridgetown, NS B0S 1C0
902-665-2119 tr00per@fastmail.fm

Allison Davenport

324189 SDRD 27 Annan ON N0H 1B0
519-387-1714 allisondavenport14@hotmail.com

Emke Livestock, Craig Emke & family
Four K's Farms, Donald Acres

2875 Galetta SDRD Kinburn, ON K0A 2H0
613-623-5260

Glenvale Farms, Wesley, Leslie & Derek Glaspell

1000 Townline Rd. N., Oshawa, ON, L1H 8L7
905-433-5543

Halfpint Llamas, Carmen Peters

1036 Chaster Rd, Gibsons, BC V0N 1V4
604-886-8268 carmen.peters@dccnet.com

Hawk Hill Farm, Laurie Maus & Robert Garner
Hazel Hill Farm, Michael Rember & Stacey Beatty

1718 Upper Concession, Ormstsown, QC J0S 1K0
450-567-7481 4540-567-7585 hazelhill66@gmail.com

Hodwal Farm, Ian and Colleen Hodges

4226 Highland Park Rd., Armstrong, BC, V0E 1B4
250-546-4172

Integrity Ranching, John & Kelsey Beasley
Isle of Skye North Country Cheviots, Susan Neal
LaurDavi Farms, Madison & Tyler Heibein
MacKid's Sheep, Courtney & Peter MacDougall

Box 10C RR 1 Regina SK S4P 2Z1
306-545-6190 courtney_mac@hotmail.com

Newton Hill Stock Farm, Jerry & Fay Sanduliak

Box 26, Elkhorn MB, R0M 0N0
204-845-2468 jsanduliak@hotmail.com

Oak Generation Farm, Jason & Lisa Emke

27 Emke Rd, Walkerton, ON N0G 2V0
519-364-6606 jason.emke@fcc-fac.ca

Jack & Joan Pledger
Dave & LInda Pluim

14 54042 Range Rd 210 Ardrossan, AB T8C 2A7
Tel/Fax 780-998-2955 hobbyfm@telus.net

Raven Hill Meadows, Keith & Kathleen Wilson
Seguin Sheep, Kyle, Whitney & family
Spring Hill Farm, Lloyd Skinner

RR 5, Bowmanville ON, L1C 3K6
905-263-8167

Stonehouse North Country Cheviots, Shawn & William Stonehouse
Upperbrook Farm, Ruth Mathewson

989 Upper Brookside Rd Central North River, NS B6L 6W6
Tel/Fax 902-895-4708 (call first before faxing please) rmathewson@gmail.com

WD5 Suffolks, Heine Westergaard
If you wish to see your farm listed on this page, please contact us.