Scottish Blackface Sheep
Scottish Blackface Sheep breeders listing & info
The Blackface breed is the most numerous breed in Britain accounting for over three million ewes, representing 16% of the British pure-bred ewe flock. The outstanding qualities of the breed are survivability, adaptability and versatility, with the ability to fit into any farming situation. They are one of the hardiest sheep breeds and are the backbone of the Scottish sheep industry.
La race Blackface est la race la plus nombreuse en Grande-Bretagne, avec plus de trois millions de brebis, représentant 16 % du cheptel de brebis britannique de race. Les qualités distinctives de la race sont l'instinct de survie, la facilité d'adaptation et la polyvalence, lui permettant d'évoluer dans n'importe quel milieu agricole. C'est une des races les plus robustes et est le point d'appui de l'industrie ovine écossaise.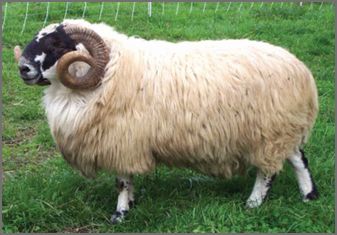 For more information about the Scottish Blackface sheep and pictures, please visit:
Oklahoma State University www.ansi.okstate.edu/breeds/sheep/scottishblackface
Scottish Blackface Sheep Association of North America www.ScottishBlackfaceSheep.com
Characterisitcs of Scottish Blackface Sheep
Lamb/Ewe Percentage / Pourcentage d'agnelage
Fleece / Qualité de la toison
Staple Length / Longueur de fibre
Scottish Blackface Sheep breeders listing
Brookside Acres, Robert Ross & Andrew Brown

Box 220 Shellbrook, SK S0J 2E0
306-941-8734 brooksideacres@gmail.com

Cypress Hills Scotties & Border Collies, Christine Jobe
Crannog Farm, Jean & Cliff Robertson
Dunroamin Hollow, Lee, Christina & Camryn Moltzahn

Box 944 Fort Macleod, AB T0L 0Z0
403-892-4929 dunroaminhollow@gmail.com

McDermit Ranch, Randy, Jelaine & Logan McDermit
Deb Pawlyshyn

1070 Nanaimo River Rd Nanaimo BC V9X 1E5
250 619 1712 pawlymn@shaw.ca

RJ Farms (we take care of ewe), Reina & Jason Masyk

Box 1088, High Prairie, AB T0G 1E0
Tel/fax: 780-523-4791 masyk@telusplanet.net
If you wish to see your farm listed on this page, please contact us.