Texel Sheep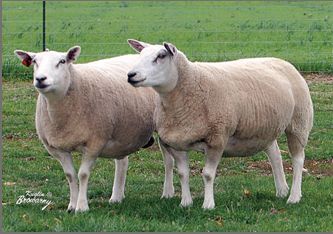 Texel Sheep breeders listing & info
The Texel is a meat sheep that produces a lean, well muscled and high yielding carcass. Developed on the island of Texel off the coast of Holland in the early 1800's, the breed was imported in to Canada in the 1980's. Since that time, the breed has grown to make a significant contribution to the country's prime lamb trade. This has mainly been done through the use of Texel rams as terminal sires in commercial crossbreeding programs.
Although the ewes have only average prolificacy, they are very docile and easily managed. They adapt well to either pasture based or feedlot style management and show excellent feed conversion in all systems.

Le Texel est un mouton à viande qui produit une carcasse maigre, bien musclée et à haut rendement. Développée dans l'île de Texel au large de la côte de la Hollande au début des années 1800, la race a été importée au Canada au cours des années 1980. Depuis ce temps, la race a évoluée pour apporter une contribution significative au commerce d'agneau du pays. Cela a principalement été réalisé grâce à l'utilisation de béliers Texel en terminal dans des programmes de croisement commerciaux. Bien que les brebis aient seulement une prolificité moyenne, elles sont très dociles et facilement gérées. Ces moutons s'adaptent bien à la gestion sur pâturage ou à l'engraissement en parc et démontrent une excellente conversion alimentaire dans tous les systèmes.
Canadian Texel Assocation Breeders Directory www.canadiantexelassociation.org
Characteristics of Texel Sheep
General Appearance - Large sized sheep, robust, strongly framed, thick set body. Fleece is white with long staple.
Lamb/Ewe Percentage / Pourcentage d'agnelage
Fleece / Qualité de la toison
Staple Length / Longueur de fibre
Texel Sheep Breeders listing
Abel Farms, Morley Knudslien & Lorraine Williams

Box 208 Ryley AB T0B 4A0
780-663-2017 abelfarms.k@gmail.com

Atkinson Acres, Tracey & Brian Atkinson

RR 1 5582 Conc 6 New Lowell, ON L0M 1N0
Tel/Fax: 705-424-2879 atkinson@interhop.net

Benlock Livetock, Darryl & Kim Hopkins

RR 1 Elmwood ON, N0G 1S0
519-363-9415 hopkins_363@hotmail.com

Black Walnut Lane, Ron & Adele Service

Box 171, 814 Millgrove S-RD, Millgrove, ON L0R 1V0
905-689-0698 info@blackwalnutlane.com

Blue Moon Texels, Stan & Lori Campbell

RR 1 Iona Station, ON
519-762-5113 selectlivestock@aol.com

Brien Dorests & Texels, Gary, Luanne, Lee & Sarah Brien
Ronald & Janice Broadworth
Bry-LiL Farm, Bryan Coggar

22 Harper Sett Rd, Anagance, NB
Tel/Fax: 506-756-2366 brylilclydesdales@hotmail.com

Cold Stream Ranch, Ruthanne & Mels Van der Laan
Cornerstone Texels, Steve & Janet Jones
Coulee View Texel, John & Nel Harrman

Box 106 Diamond City, AB T0K 0T0
381-4881 fax: 381-0288 couleeviewtexel@calix.com

Ron Erdman
Evergreen Farm

2157 Colehill Rd, Glenburnie ON, K0H 1S0
613-542-8584 Fax: 542-7650 evergreen@sprint.ca?

Ferme Noble Hills Farm

??185 Noble Rd, Danville QC J0A 1A0
819-823-5037 hautboisbmd@gmail.com www.noblehills.ca
Finlay Farm/Lochridge Texels, Albert & Dena Finlay

1952 Rashdale Rd., Armstrong, BC V0E 1B3
250 546-6223 finlaysfarm@gmail.com www.finlayfarm.com

Four K's Farm, Donald Acres

2875 Galetta SDRD Kinburn, ON K0A 2H0
613-623-5260

Glenvale Farms, Wesley, Leslie & Derek Glaspell

100 Townline Rd N Oshawa ON, L1H 8L7
905-433-5543

Ken Hallows
Haltcliffe Limousin, Ridley Family - United Kingdom
Hazelmere Farms
Fraser Hodgson
Keith & Tracy Johnson
MacKinnon Texels, Bruce & Dawn MacKinnon & Family
Morning View Farm, Claude & Debbie Delisle

Box 655 Elnora, AB T0M 0Y0
403-773-0005 deb@xplornet.com

Mulmur Vista Farm, Don McCutcheon & Sons

RR 2, Shelburne ON, L0N 1S6
519-925-5371 519-928-9626 (Bill)

Orchardview Texels, Gordon & Marguerite Walker

4071 Walker's Dr Glencoe, ON
519-868-1593 mwalker@regn.com

Martin & Bonnie Pratchler
Prolific Acres Sheep Farm, Charlie Renaud "Twinning Texels" with the B-gene
Robinson Stock Farm, Derek & Chantel Robinson & family

Beachburg ON K0J 1C0
613-401-5749 derekir1@hotmail.com

Rose Haven Farm, Linda Swaine
Shamrock Show Sheep, Brianna Hiltz

46 Parker Condon Rd Berwick North NS B0P 1E0
902-300-6087 902-844-0371 hiltzb10@gmail.com

Stonehill Sheep, Tina Harrington & Paul Dick

RR 4 Chatsworth ON N0H 1G0
519-794-3732 tharrington@sympatico.ca

Stonehill Sheep, Glen & Judy Porteous

RR 1 Chatsworth ON N0H 1G0
519-794-4549 porteous@bmts.com

Ryk ter Beek
Texel & Rouge de L'Ouest, Paul Cardyn

490 Main W Coaticook QC J1A 1P9
819-849-6496 pcardyn@vetcoaticook.ca

Dallas & Elaine Turner

Box 118, Kronau, SK S0G 2T0
306-789-9106 Fax: 781-0213 turner.d@sasktel.net

S. Vidacs & Riva Berezowski
Western Texels, Michael & Grace Messing

RR 1 Sylan Lake, AB T4S 1X6
403-886-2808 Fax: 886-2809 mikemessing@pentnet.net

Woodhurst Farm, Tom Wood

2145 Dingman Dr London ON N6N 1G5
Tom 519-681-9829 Fred 519-681-0918 Fax 681-0449 tomwood.woodhurst@gmail.com
If you wish to see your farm listed on this page, please contact us.