Written by CCWG
Monday, October 23, 2017 — No Comments Yet
CCWG Wool Industry News 2017
The CCWG recently held Management and Board of Director meetings at the 99th Annual General Meeting in Lethbridge, AB on October 19th – 21st, 2017.
The 2017 elected Board of Directors are as follows:
EXECUTIVE COMMITTEE
President - David Mastine, St. Felix de Kingsey, QC
1st Vice President - Lee E. Sexton, Hanley, SK
2nd Vice President - Allan E. Ribbink, Tiverton, ON
- Roma H. Tingle, Prince George, BC
Additional Directors on the Board are as follows:
Warren L. Moore, Stavely, AB (Audit Committee)
Ward Harden, Fir Mountain, SK (Audit Committee)
Ruth Mathewson, Central North River, NS (Audit Committee)
John D. Woodburn, Grimshaw, AB
Gary J. Fox, Bloomfield, ON
Brian W. Greaves, Miniota, MB
For the fiscal year ending February 28, 2017 the co-operative recorded gross sales of almost 10.2 million which represents an increase of 2.5% from the previous year. Net income of almost 1.2 million was achieved which included the gain on the sale of a company owned property in Lethbridge, Alberta.
The Board of Directors have authorized a dividend payment of 7% to the shareholders of record date December 31, 2016. The company has always paid a dividend and it has been 7% annually since 1999. The Shareholder Wool Shipper Loyalty Reward Program (SWSLRP) will remain at the rate of 7 cents per pound on the 2016 wool clip. Full details of these programs can be found on the company website www.wool.ca. For a report on the current wool market and our business update - CCWG Market Reports.
In other news, a thorough review and evaluation of the company's long term strategic business plan was completed by the Board of Directors and Management team. The official grand opening took place at the company's new Lethbridge, Alberta facility on Saturday October 21st. It is located in the Broxburn Business Park and in close proximity to both major livestock auctions. A large group of local dignitaries, CCWG customers, directors & staff were in attendance to participate in this event. A customer appreciation barbeque was also held to coincide with other promotional activities that were taking place throughout the day.
An evening banquet featuring Alberta rack of lamb capped off the three day event with 90 people in attendance. In 2018 the Annual General Meeting will be held in Carleton Place, Ontario from October 18th – 20th where we will celebrate 100 years in business.
Long time Saskatchewan sheep shearer Lorrie Reed was recognized by CCWG for his many years of shearing service in western Canada.
The national Wool Certificate of Merit recipients for 2016 were announced and presented to the attending winners at the 99th AGM in Lethbridge, AB at the banquet on Oct 21st.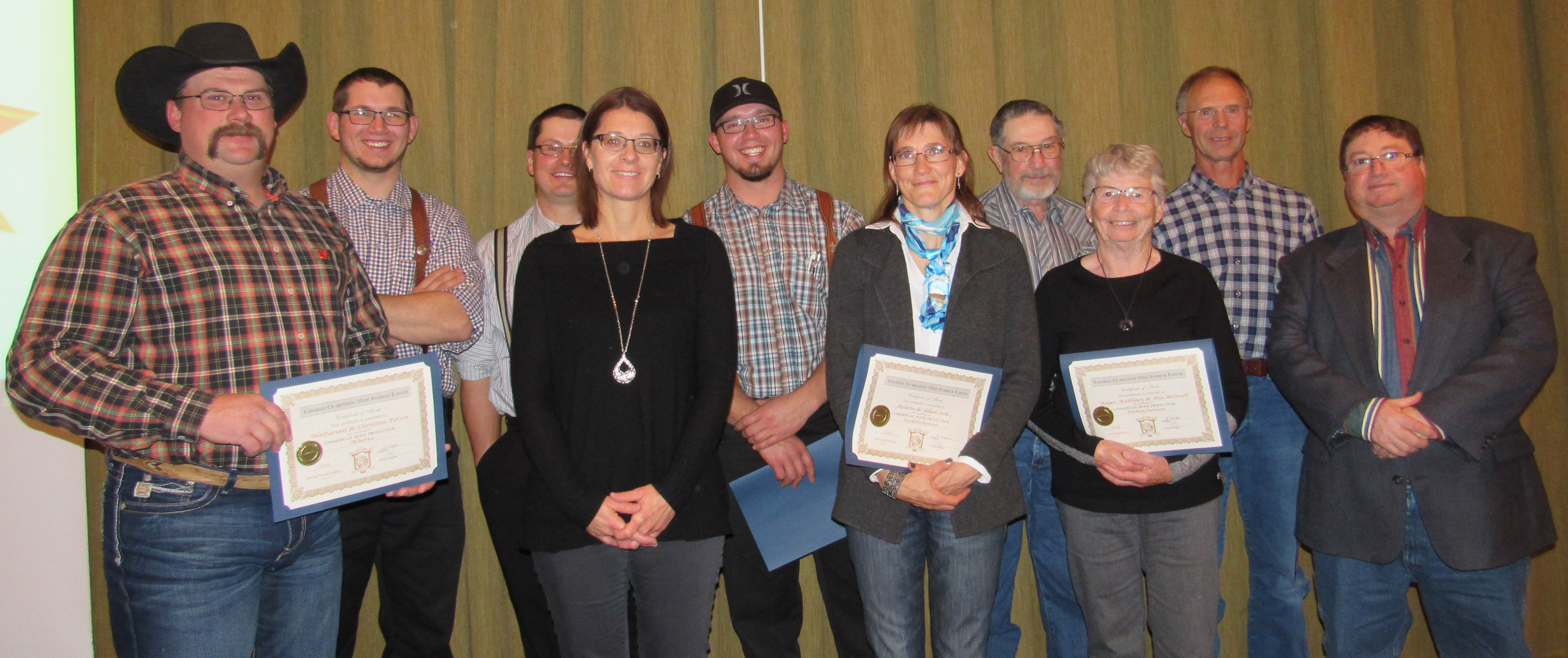 Wool Certificate of Merit Award winners for 2016 attending the 99th AGM Banquet
Front row - Nathanael & Christine Polson; Arlette Seib; Kathleen & Wes Britnell
Back row – CC Farming Co. Ltd: Robert Walter, Jeff & Gerald Stahl; Roger Britnell; Lorrie Reed – SK shearer