Written by CCWG Monday, November 12, 2018
The CCWG recently held Management and Board of Director meetings at the 100th Annual General Meeting in Carleton Place & Almonte, Ontario on October 18th – 20th, 2018
The 2018 elected Board of Directors are as follows:
Executive Committee
President - David Mastine, St. Felix de Kingsey, QC
1st Vice President - Lee E. Sexton, Hanley, SK
2nd Vice President - Allan E. Ribbink, Tiverton, ON
- Roma H. Tingle, Prince George, BC
Additional Directors on the Board are as follows:
Warren L. Moore, Stavely, AB (Audit Committee)
Ward Harden, Fir Mountain, SK (Audit Committee)
Ruth Mathewson, Central North River, NS (Audit Committee)
Gary J. Fox, Bloomfield, ON
Brian W. Greaves, Miniota, MB
For the fiscal year ending February 28, 2018 the co-operative recorded gross sales of almost 10.4 million which represents an increase of 2.5% from the previous year. Net income of $425,599 from all business operations was achieved. Difficult wool marketing conditions for broader wools continued in 2017/18. This resulted in lower wool sales in our value-added wool trading division of almost 14.5% compared to the previous fiscal year. Canadian wool is currently being marketed to 6 countries, but China remains the major export destination for all wool types. Profitability was up at all retail locations with overall sales increasing by 9.2%. In terms of revenue ratio, the past year reflected 25% (wool) and 75% (retail).
The Board of Directors have authorized a dividend payment of 7% to the shareholders of record date December 31, 2017. The company has always paid a dividend and it has been 7% annually since 1999. The Shareholder Wool Shipper Loyalty Reward Program (SWSLRP) will remain at the rate of 7 cents per pound on the 2017 wool clip. Full details of these programs can be found on the company website www.wool.ca. For a report on the current wool market and our business update - www.wool.ca/Wool_Market_Reports. In other news, a thorough review and evaluation of the company's long term strategic business plan was completed by the Board of Directors and Management team.
2018 marked our 100th year in business which is a significant milestone to reach. To celebrate this event an evening banquet featuring fresh Ontario lamb was held at the North Lanark Agricultural Hall in Almonte, Ontario with 200 guests in attendance. In 2019 the Annual General Meeting will be held in Truro, Nova Scotia from October 17th – 19th.
The national Wool Certificate of Merit recipients for 2017 were announced as follows:
Atlantic -
Paul & Ann Cullingworth, Scotsburn, NS
Shearer / Tondeur - Eric Sullivan
Saskatchewan -
Heidi Clarke – Willow Island Farm, Saskatoon, SK
Shearers / Tondeurs - Bill & Heidi Clarke

Québec -
Christian & Marina Bellaar-Spruyt, Alcove
Shearers / Tondeurs - Tom Redpath & David St-Onge

Bonny & Norman Lee, Pangman, SK
Shearer / Tondeur - Cliff Metheral

Ontario -
David Anderson – Andelin Farms, Orillia, ON
Shearer / Tondeur - Don Metheral

Dale & Dawn Montgomery, Maple Creek, SK
Shearer / Tondeur - Cliff Metheral
Ken Thompson – Island Meadow Family Farm, Demorestville, ON
Shearer / Tondeur - Ruco Braat
Richard & Wanda Perrault, Val Marie, SK
Shearers / Tondeurs - Lorrie Reed & Crew
Jim Johnston – Pasture Hill Farm, New Liskeard, ON
Shearers / Tondeurs - Gerald Gemmill, Jonas Ouellette, William Rousseau
Alberta -
Jordon Preston, Vauxhall, AB
Shearers / Tondeurs - John Beasley, Shaun Fajnor, Dwight Galenzoski, Paul Preston
Manitoba -
Rupert Durose - Duck Paddle Farm, Plumas, MB
Shearer / Tondeur - Rupert Durose

Shannon & Don Horkoff, Vulcan, AB
Shearer / Tondeur - Jeff Fielding

Rupert Durose - Duck Paddle Farm, Plumas, MB
Shearer / Tondeur - Rupert Durose
British Columbia
Dennis Gellings, Dawson Creek, BC
Shearers / Tondeurs - South Peace Colony, Birch Hills Colony
Steve & Jeanette Lewis, McAuley, MB
Shearer / Tondeur - Steve Lewis
The following shearers were recognized for their long time service to the sheep industry.
Nicole Blanchard, L'Epiphanie, QC
Ross Creighton, Clayton, ON
Geraldine Heffernan, Indian River, ON
Bruce McEwen, Foresters Falls, ON
Richard Metheral, Glen Huron, ON
Judy Miller-Shelley, Hanover, ON
Steve Shelley, Hanover, ON

Tom Redpath, Ayres Cliff, QC
John Farrell, Wingham, ON
Jerry Kelleher, York, ON
Donald Metheral, Glen Huron, ON
Ruco Braat, Bailieboro, ON
Terry Spicer, Madoc, ON
Robert Worden, Courtice, ON
Peter Kudelka, Mitchell, ON
Staff & Director retirement presentations
James McNeely, Wool Superintendent, Carleton Place
John Woodburn, CCWG Director, Alberta North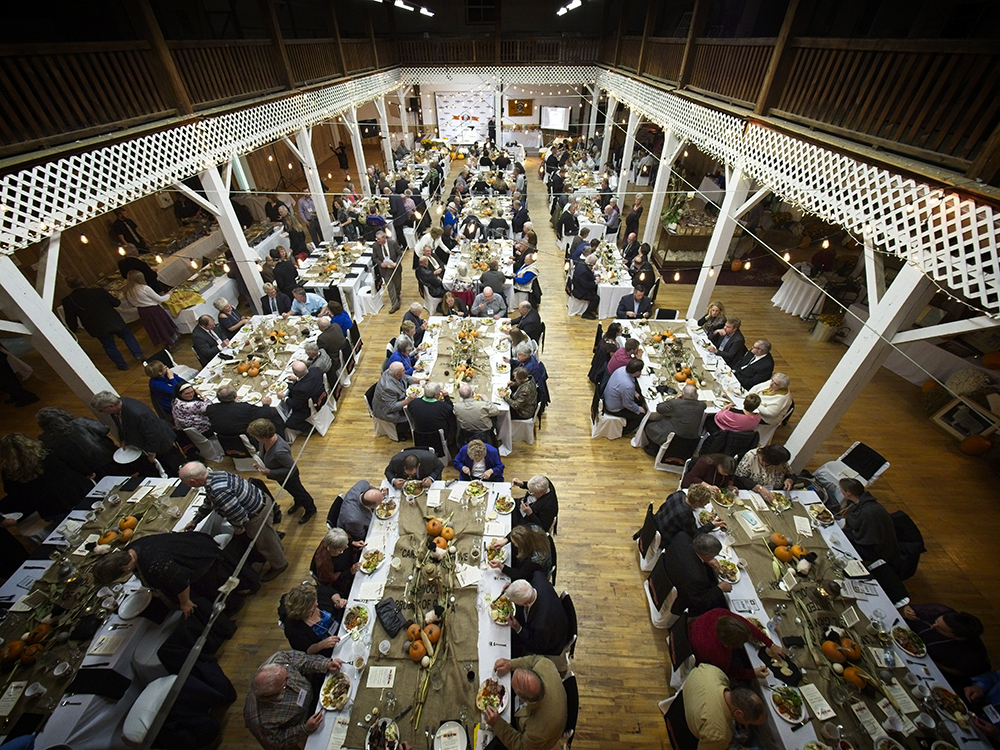 CCWG 100th AGM Banquet held at North Lanark Agricultural Hall
Almonte, ON - October 20, 2018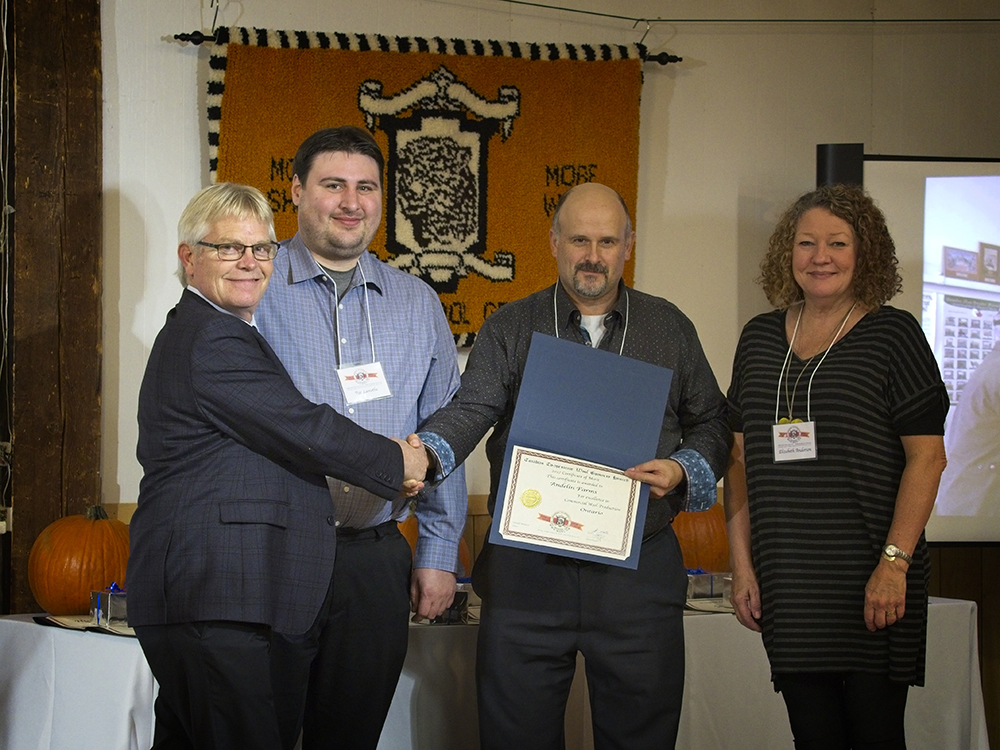 2017 Wool Certificate of Merit
David & Elizabeth Anderson, Andelin Farms from Orillia, ON
Presented by Allan Ribbink – CCWG Director Ontario West & Patrick Lamothe – Carleton Place Wool Grader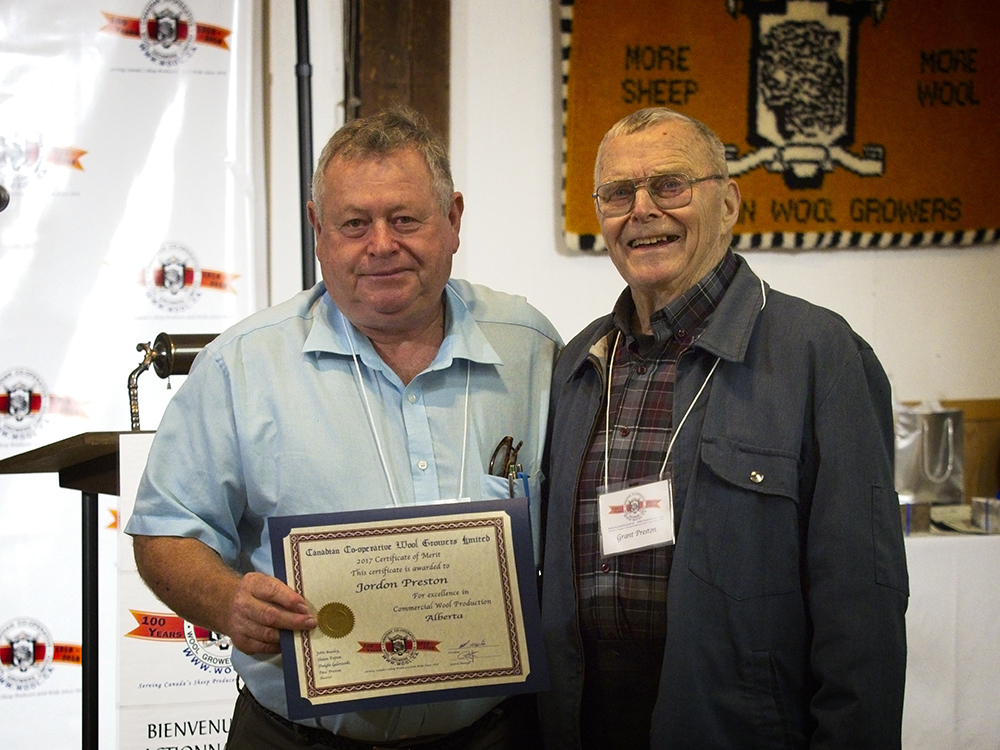 2017 Wool Certificate of Merit
Warren Moore – CCWG Director Alberta South presents the Certificate of Merit to Grant Preston, Mount Forest, ON
on behalf of his grandson Jordan Preston from Vauxhall, AB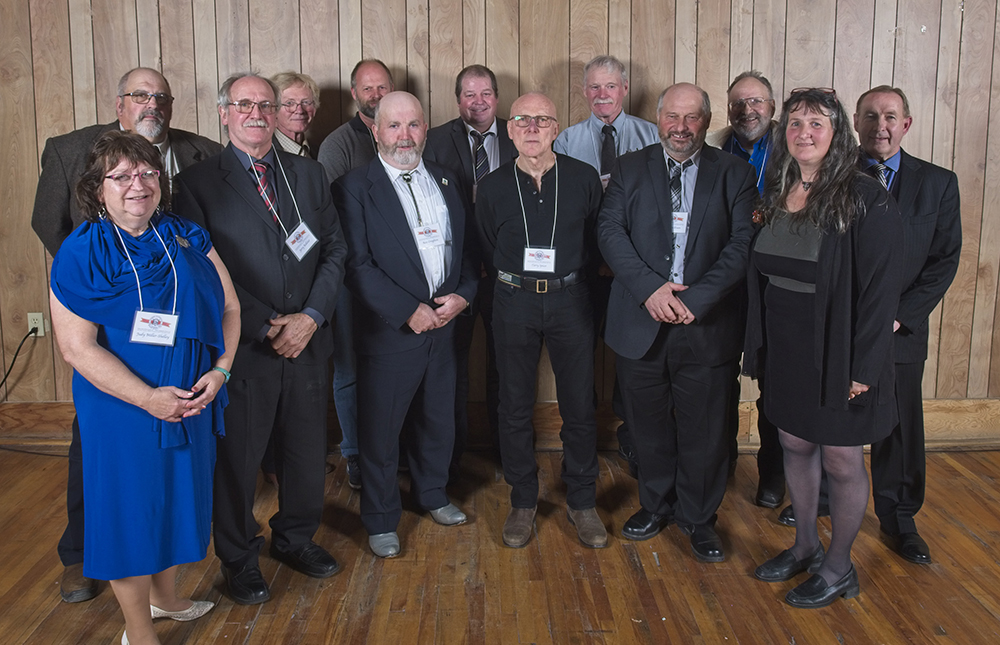 Shearers recognized for long time service to the sheep industry
Left to right, front row: Judy Miller-Shelley, Jerry Kelleher, Ross Creighton, Terry Spicer, Bruce McEwen, Nicole Blanchard.
Left to right, back row: Steve Shelley, Tom Redpath, Ruco Braat, Richard Metheral, John Farrell, Peter Kudelka, Eric Bjergso – CCWG General Manager
Absent – Geraldine Heffernan, Donald Metheral, Robert Worden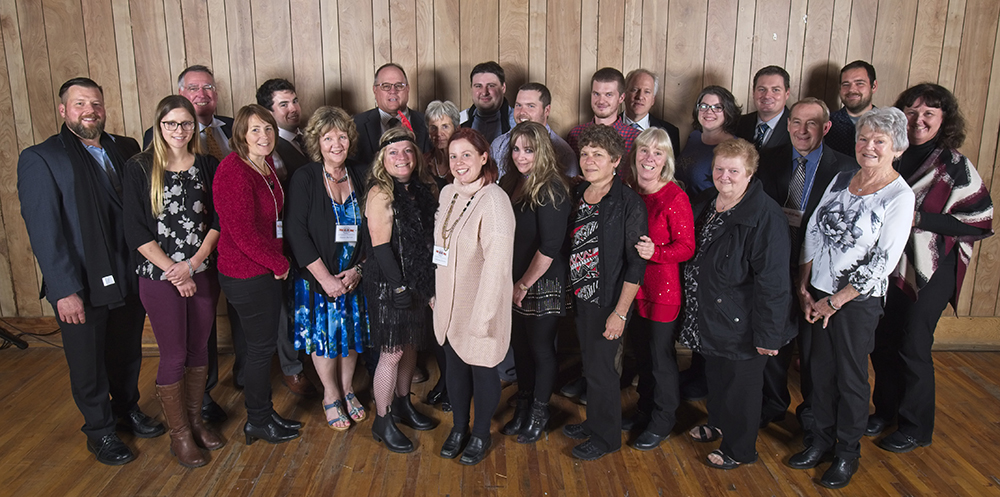 CCWG staff attending the 100th AGM & Banquet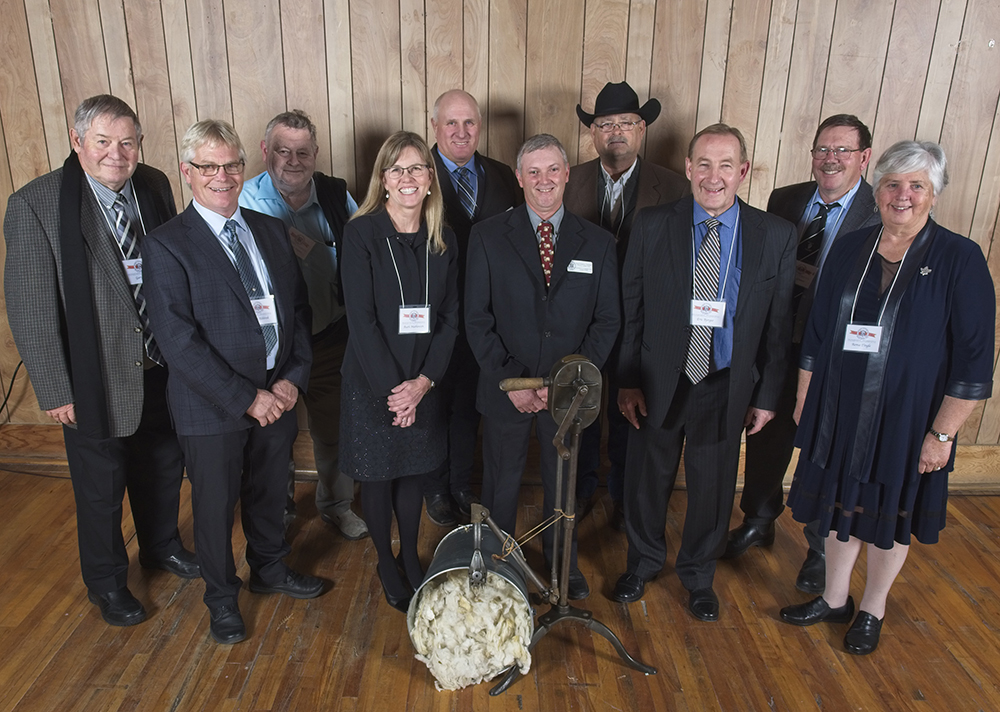 CCWG 2018/19 Board of Directors
Left to right:
Gary Fox, Allan Ribbink, Warren Moore, Ruth Mathewson, Ward Harden,
David Mastine, Lee Sexton, Eric Bjergso, Brian Greaves, Roma Tingle